WINTER KEYCHAIN
TOMORROWLAND WINTER.
In March 2023, the People of Tomorrow will unite in the French mountains of Alpe d'Huez. Get ready for an experience of a lifetime filled with ski, friends and music at Tomorrowland Winter 2023. The Event Keychain features the artwork and coordinates of Tomorrowland Winter 2023, the eye-catching Tomorrowland icon surrounded by an artwork inspired by the beautiful mountains of Alpe d'Huez.
Details:
- Part of Limited Edition Event Collection
- Split keychain ring closing
- Engraved Tomorrowland Winter artwork and coordinates
- Comes in beautiful box with Gold Tomorrowland Winter details
Shipping
To calculate the delivery costs, please add any product to your shopping cart, click on checkout and select your country. The delivery costs for your order will then be displayed automatically.
Returns
When purchasing products on the Tomorrowland Store, you have the right to return purchased products without any reason, on condition that you notify us within 30 days after delivery of the product via our returns portal.
Payment
As security is our main priority, your transaction will always be done using a secured connection (https). We are able to process payments through PayPal, Mastercard, Visa, Amex Bancontact.
Official Tomorrowland Design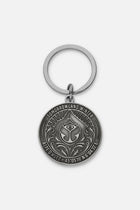 WINTER KEYCHAIN