ADSCENDO MAINSTAGE FIRST SKETCHES
Sold out
The Adscendo MainStage First Sketches offer a glimpse into the genesis of a transformative vision, where the artist's initial lines and strokes capture the raw essence of boundless creativity. These sketches embody the spirit of exploration, encouraging us to embrace the beauty of imperfection and embark on our own artistic journeys, knowing that every great masterpiece begins with a single stroke.
Artist: Great Library Studios
Limited edition: 100 artworks
Shipping
To calculate the delivery costs, please add any product to your shopping cart, click on checkout and select your country. The delivery costs for your order will then be displayed automatically.
Returns
When purchasing products on the Tomorrowland Store, you have the right to return purchased products without any reason, on condition that you notify us within 30 days after delivery of the product via our returns portal.
Payment
As security is our main priority, your transaction will always be done using a secured connection (https). We are able to process payments through PayPal, Mastercard, Visa, Amex Bancontact.
Official Tomorrowland Design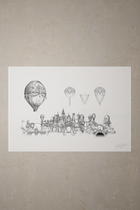 ADSCENDO MAINSTAGE FIRST SKETCHES