BOOK THE RISE OF ADSCENDO - ENGLISH
Tomorrowland is excited to offer the People of Tomorrow another opportunity to experience the official origin story of the Tomorrowland 2023 theme. Don't miss out on this second limited edition of THE RISE OF ADSCENDO, but hurry because once they're gone, they're gone! 
THE RISE OF ADSCENDO is a fantasy novel that will take you on a magical adventure into the world of Adscendo, offering insight into the Tomorrowland universe like never before. This exclusive edition is complete with festival artwork and beautiful hardback binding, making it the perfect novel to start your Tomorrowland book collection.
Join the People of Tomorrow to meet Ro, Adscendo's most rebellious Windrider, ahead of this year's summer festival and order your copy today!
Shipping
To calculate the delivery costs, please add any product to your shopping cart, click on checkout and select your country. The delivery costs for your order will then be displayed automatically.
Returns
When purchasing products on the Tomorrowland Store, you have the right to return purchased products without any reason, on condition that you notify us within 30 days after delivery of the product via our returns portal.
Payment
As security is our main priority, your transaction will always be done using a secured connection (https). We are able to process payments through PayPal, Mastercard, Visa, Amex Bancontact.
Official Tomorrowland Design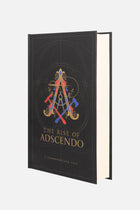 BOOK THE RISE OF ADSCENDO - ENGLISH