OFFICIAL TOMORROWLAND FLAG
People of Tomorrow, show your flag... and support Love Tomorrow.
Embrace the warm feeling of Love, Peace and Unity with the Official Tomorrowland Flag. It features two plastic D-rings and two thumbholes to easily wear it as a cape, or raise above the crowd. A small and unique bag lets you carry it around easily wherever you go.
Shipping
To calculate the delivery costs, please add any product to your shopping cart, click on checkout and select your country. The delivery costs for your order will then be displayed automatically.
Returns
When purchasing products on the Tomorrowland Store, you have the right to return purchased products without any reason, on condition that you notify us within 30 days after delivery of the product via our returns portal.
Payment
As security is our main priority, your transaction will always be done using a secured connection (https). We are able to process payments through PayPal, Mastercard, Visa, Amex Bancontact.
Official Tomorrowland Design
OFFICIAL TOMORROWLAND FLAG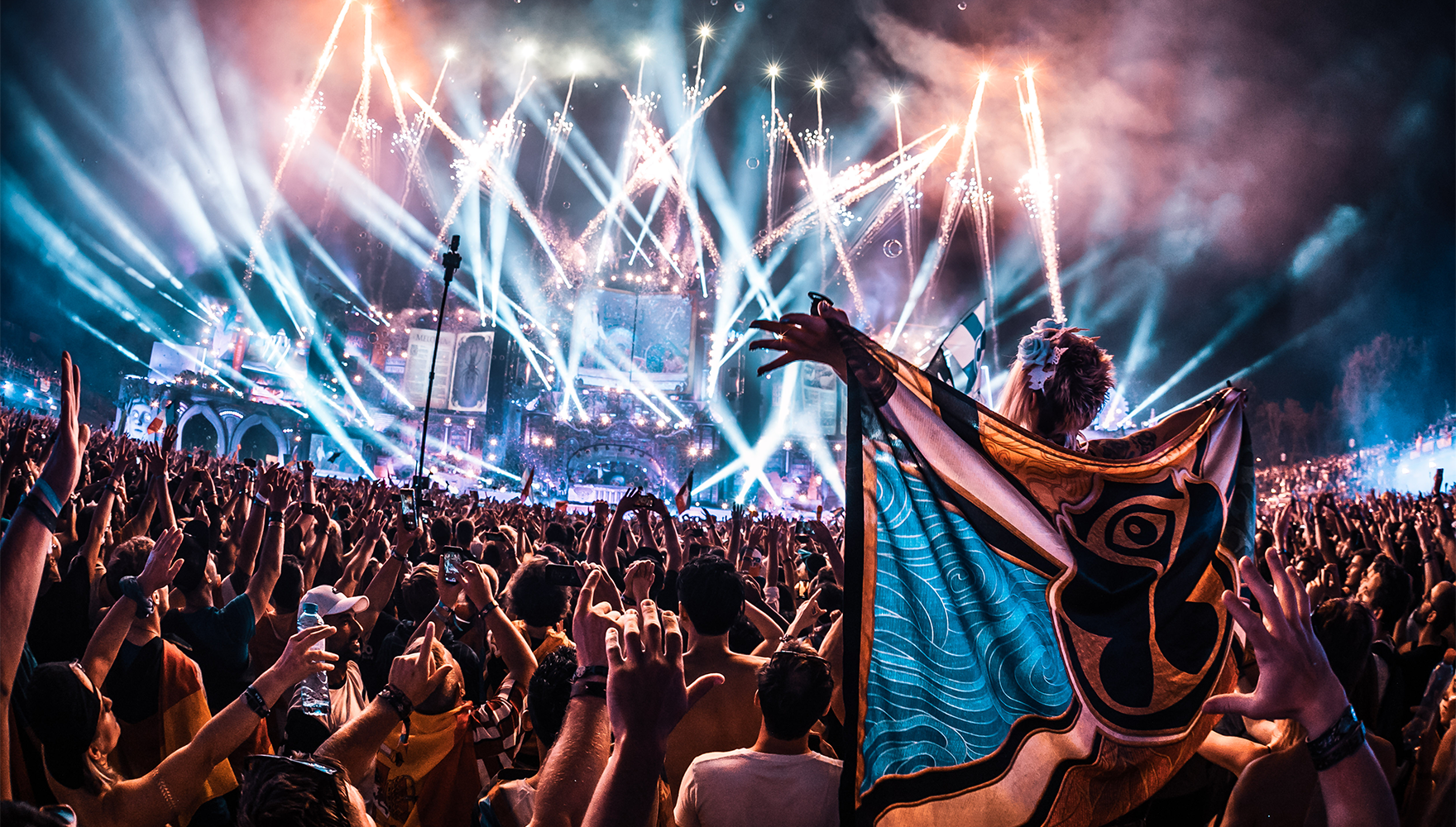 Love Tomorrow is dedicated to creating a stable and sustainable world for generations to come. Our mission is to bring people together and inspire them through unique experiences, rich in music, culture, fashion and art.
This initiative, driven by the Tomorrowland festival, launches innovative ideas and hands-on tools to empower people and organisations. We persuade young and old to put these ideas into practice so they can live sustainably and joyfully, every day.
We believe in bringing together the people who want to make this world a sustainable place. To unite and join forces, because the wisdom of this crowd contains an equaled source of knowledge, skills and energy to generate an unstoppable positive power for change.
We love to connect the People of Tomorrow. People of different generations, with different backgrounds and perspectives.
THE SYMBOL OF TOMORROWLAND
"The Icon" is not just a logo. The butterfly has a positive association and symbolizes freedom and the beauty of nature. But it is also used in many cultures to express the purity of the human soul and its inner child. The crown reminds us that we are one world in which we are equal. The eye inspires us to keep an eye out for each other and see the beauty of life even though our sight is sometimes blurred by all the problems we face every day.
When the WIND surges over the ocean, and waves rise out of the sea, a strange calm is felt underwater. And while the surface is wild and dangerous, and the crashing of tidal waves rumble, we can feel the energy of the storm in our bones. We can use the wild power of the wind, to provide us pure partying energy and the strength to dance all night. While the wind howls and lightning ignites the sky, in the safety of Tomorrowland, we are free.
The power of WATER comes and goes, swells pulsating like the rhythm of life. The water is our playground, on which we float and dance. It brings us joy and life itself. Water has the power to cleanse body and mind, to transport us physically and spiritually. Water gave us a way to explore new worlds, flowing in cycles around our planet. Oceans that turn to clouds turn to rain, tiny drops can bring down mountains and endless waves turn rock to sand. Tides come up and go down, as if earth is breathing gently.
The rhythm of mother nature connects us all. We are all connect with the EARTH. We should work with what nature gives us, using her gifts wisely. Not destroy what she has built but rebuild the bond with nature that has been destroyed along the way.
Rumbling deep down at the bottom of the ocean, are millions of active volcanoes filled with FIRE. Constantly growing and changing, building up to unimaginable pressure. And when the heat of molten earth meets the coolness of water, great powers are unleashed. When fire and water collide, it shakes the floor of the ocean. Lava welling up from the deep, turning from liquid to solid, towering chimneys pour out boiling water. But even under these extreme conditions, life prospers in almost limitless ways.
#TOMORROWLANDFLAG
Share your most incredible memories with #TomorrowlandFlag and you will be featured below or on the Tomorrowland Store channels.
 
Spread the love with the world and start a positive movement.
 
People of Tomorrow... Show your flag!