CHIEF MOUNTAIN GOGGLES
ACQUIRE CLEAR VISION.
The Tomorrowland Chief Goggles offer a huge spherical design with a Zeiss patented sonar lens, granting you with a wide view and excellent vision. It also has 100% UV protection and an Anti Fog coating, to make sure your eyes are completely protected no matter which conditions. The unique Tomorrowland designed strap is an actual photo of the magical surroundings of Alpe d'Huez, the home of Tomorrowland Winter, and a Tomorrowland Icon patch on both sides reminds you to see the beauty in everyone. You will never miss a single thing of the Magic of Tomorrowland Winter thanks to the Smart Venting System, which avoids fogging and keeps clear vision even during heavy snowfall.
Shipping
To calculate the delivery costs, please add any product to your shopping cart, click on checkout and select your country. The delivery costs for your order will then be displayed automatically.
Returns
When purchasing products on the Tomorrowland Store, you have the right to return purchased products without any reason, on condition that you notify us within 30 days after delivery of the product via our returns portal.
Payment
As security is our main priority, your transaction will always be done using a secured connection (https). We are able to process payments through PayPal, Mastercard, Visa, Amex Bancontact.
Official Tomorrowland Design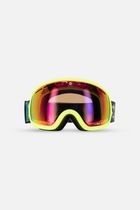 CHIEF MOUNTAIN GOGGLES