LOOP EXPERIENCE BLACK
The exclusive Tomorrowland x Loop Experience Earplugs are designed to suit your festival needs, your style – and your ears. Created to enjoy every beat and to enhance your live music experience.
Experience Earplugs provide 18 decibels of coverage. This qualifies as 'low noise reduction', meaning you won't miss a beat this festival season. By combining an acoustic channel and filter for natural sound. Loops stay in, no matter how much you dance, sweat or lose yourself in the music.
Shipping
To calculate the delivery costs, please add any product to your shopping cart, click on checkout and select your country. The delivery costs for your order will then be displayed automatically.
Returns
When purchasing products on the Tomorrowland Store, you have the right to return purchased products without any reason, on condition that you notify us within 30 days after delivery of the product via our returns portal.
Payment
As security is our main priority, your transaction will always be done using a secured connection (https). We are able to process payments through PayPal, Mastercard, Visa, Amex Bancontact.
Official Tomorrowland Design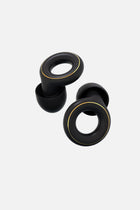 LOOP EXPERIENCE BLACK