WOODEN TOWER GAME
Play the unique travel size Tomorrowland Wooden Game with friends from around the world. The goal of this game is to carefully remove one block at a time from a tower made of stacked blocks and place it on top, without causing the tower to collapse.
Shipping
To calculate the delivery costs, please add any product to your shopping cart, click on checkout and select your country. The delivery costs for your order will then be displayed automatically.
Returns
When purchasing products on the Tomorrowland Store, you have the right to return purchased products without any reason, on condition that you notify us within 30 days after delivery of the product via our returns portal.
Payment
As security is our main priority, your transaction will always be done using a secured connection (https). We are able to process payments through PayPal, Mastercard, Visa, Amex Bancontact.
Official Tomorrowland Design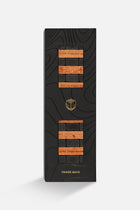 WOODEN TOWER GAME